We at SRI realize that working a commercial vehicle (CMV) collision is much different that working a passenger vehicle collision. There are numerous laws and regulations that apply to the company, driver and vehicle that do not apply to passenger vehicles. A reconstructionist must have expert knowledge of these laws and regulations to accurately determine the causation of CMV Collisions.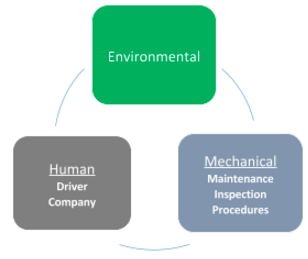 As a Kentucky State Trooper Joey was tasked with enforcing commercial motor vehicle traffic laws. As a result he developed skills in the area of commercial vehicle safety. Joey routinely inspected Commercial Motor Vehicles and their operators, issuing hundreds of citations for FMCSR violations and keeping countless unsafe trucks off KY roadways.  Joey's role with the KSP included the daily responsibility to enforce traffic laws regarding CMV and passenger vehicles.
Joey continues to expand his knowledge and study of both state traffic laws, and the federal motor carrier safety regulations through continuous training.  During his tenure as a trooper, Joey realized how the failure of trucking companies to comply with the FMCSRs directly resulted in the crashes in which they were involved. Over the past 20 years Joey has continuously studied the FMCSRs.  In 2015 SRI became an authorized Motor Carrier, USDOT number 2482698.  In addition, Joey is SRI's Safety and Compliance officer.  Aside from knowing and studying the regulations Joey, as the owner/operator of SRI, must comply with the regulations as well.
SRI also has a partnership with Roy Head, a certified diesel mechanic, to assist with the safety inspections of CMV trucks.
SRI offers this knowledge and experience to trucking companies as well. We have and do consult with organizations to get your company D.O.T. compliant.  SRI has developed a telematics company to take care of ELD issues your company may be facing.
When you need help SRI is here.
SRI is a proud member of the Commercial Vehicle Safety Alliance and Kentucky Trucking Association