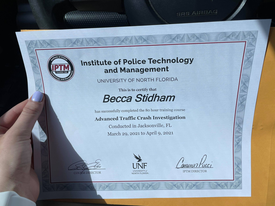 Soon SRI will be celebrating our 23rd year in business. When I formed this company my goal was to have the best trained investigators and to stay on the forefront of technology. 23 years later that is still our goal. Today Becca Stidham completed her fourth week of training to become a traffic collision reconstructionist. This goes along with the other 8 weeks of training Becca has had in other areas of our business. I received this from Becca today.  Needless to say I am proud of her. As I am all of SRI's dedicated employees.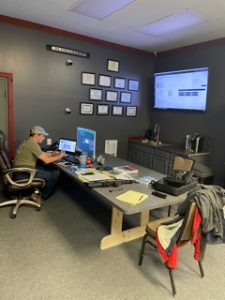 Tuesday evening I left the office to go home to eat dinner and like every other night I returned to the office to work a few more hours. WhenI arrived at 7 p.m. I found DL Coleman, our digital investigator sitting at his desk diving deep into cell phone data.
DL was ecstatic with what he had found on this phone. He began to explain on the day of the incident he was investigating he was able to track the suspect all day. He was even able to tell when she was driving vs walking and how many steps she had taken. He had plotted her movement at the scene of the incident he was taken which corroborates what the client had stated to investigators. I have never seen this level of detail from a phone. Nor have I been around anyone that has experimented as much as DL has at extracting information from phones. tablets, and gps units. The level of intensity he is putting into each and every case is a true credit to SRI. Needless to say as the owner I am very proud of his commitment to learn, and then turn around and use what he has learned by testing the methods and then applying them to cases.
As I have said many times we are dedicated to providing the best services within our profession. We are here to help you.